Trader Hoe's Tee
Do you mainly shop at TJ's? Is this where you get your weekly groceries and you wouldn't deviate to go anywhere else? Then this shirt is for you.
We know this shirt is off brand for us. However, when we made one just for ourselves - it piqued a lot of people's interest, and people asked us where we got it. So we decided to make more and share the love for Trader Joe's. 
regular men's large loose fit or it can be cropped
Customer Reviews
TRADER HOEZ BECAUSE WE ABOUT THAT COOKIE BUTTER
This shirt is funny as ****, if you don't like it. Lighten up and get a sense of humor!! I be a hoe for their cookie butter and charles shaw 2 buck chucks. Get it, we out here by the Trader Joes Hut scouting all the goods!!!! This shirt is also v comfy and super pretty sky blue. Very easy to pair with white shorts or jeans!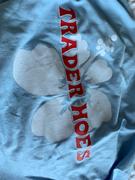 Cute Tee, Funny, Nice Fit
I love oversized Ts because I always like to be comfortable .... it's funny , me gusta ....
bro, my bestie and I joke about this all the time, Siri be making jokes
Siri never corrects me when I write Trader Hoes ... I dont know why .. my boyfriend and I joke about it all the time ,,,,, I bought him one too lol we're going to post it on IG
This shirt is funnnnnny
I got it cropped. I think it's hilarious Whenever I type trader joes my iPhone types trader hoes and it's just funny. lolllllll ... I'm going to wear this when I go shopping at Trader Joes next week and just see if anyone notices
I Love this t! ... haha trader hoes
I like this t-shirt. I wear it tucked into vintage gym shorts high waisted. I def love also wearing it to bed or just when I'm chilling in the house.